CAN THE CONSTRACTOR SUSPEND THE WORKS DUE TO NON-PAYMENT RECEIVED?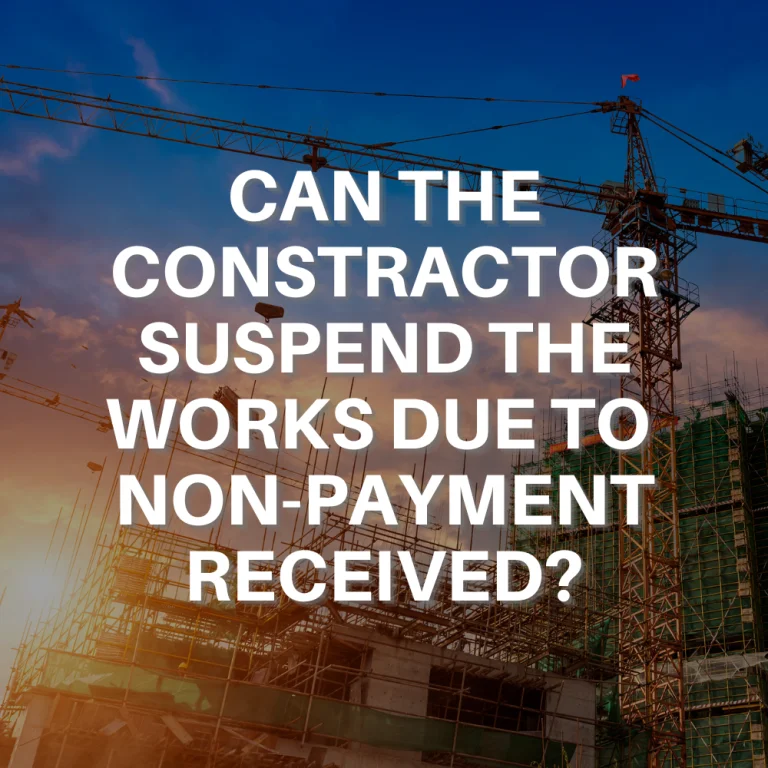 In construction industry, non-payment or delay in payment is a "norm".  When facing such a situation, normally contractors tend to slow down their works or suspend their works until payments are paid by the employer. It is a fact that each contractor has a deadline to complete the works.
It is undeniable that no contractor would like to advance their own fund to finance the construction project on behalf of the employer. Bear in mind that once the employer failed to make the payment, the employer in fact has breached the agreement/letter of award.
However, if the contractor consider to suspend the works due to the non-payment of the employer, the contract has to think twice as the wrongful suspension of works on the part of the contractor may expose it to a potential claim for substantial damages by the employer.
WHAT CONTRACTOR SHOULD DO BEFORE SUSPENDING THE WORKS?
The contractor shall check whether there is clause in the agreement or letter of award before suspending the works.  If the agreement or the letter of award is silent on the suspension of works, a contractor generally does not have the right to suspend its works even when the employer itself is in breach of contract for failing to make payments that are properly due to the contractor.
In fact, if the non-payment of the employer is clearly a breach of the agreement, the contractor may choose to terminate its contract with the employer and sue the employer for damages arising from the employer's breach of contract. However, from my experience, in market there are lot of contractors refused to do so and end up they accumulate a lot of arrear payment from the employers and in the end kill their own businesses.
Therefore, if there is non-payment from the employer, the contractor should elect to terminate the contract but not suspend the works in the absence of suspension clause in the contraction agreement. Bear in mind that if the contractor choose the suspend the work without suspension clause, it might end up with the employer impose of late ascertained damage (LAD) on the contractor.
The Construction Industry Payment and Adjudication Act 2012
With the presence of Construction Industry Payment and Adjudication Act 2012 ("CIPAA"),  a contractor who has obtained an adjudication decision in its favour may suspend the performance of its work, without being in breach of contract and is entitled to an extension of time as well as loss and expense incurred, if the adjudicated amount is not paid for by the employer.
Conclusion
Don't simply suspend the work and consult the right lawyer before doing so!